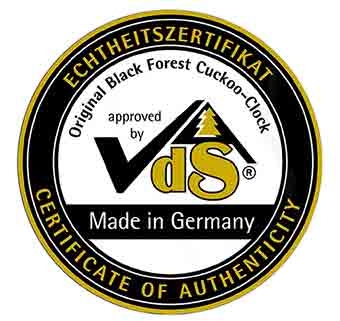 Black Forest Cuckoo Clock VdS certificate of authenticity
We are an officially registered cuckoo clock dealer and a member of the Black Forest Clock Association (VdS).
All cuckoo clocks with a mechanical movement are originals from the Black Forest with a valid certificate of authenticity.
In our cuckoo clock shop you are guaranteed to buy german cuckoo clocks handcrafted in the Black Forest and benefit from low prices and the best possible security when ordering and service.
The Black Forest cuckoo clock
Our cuckoo clocks are masterpieces of German craftsmanship. Meticulously handcrafted in the Black Forest, each clock has unique carvings that represent traditional Black Forest craftsmanship.

The cuckoo clocks feature a cuckoo mechanism that imitates the call of a cuckoo, creating the clocks' charming and familiar sound. The dials are artistically designed and allow clear and simple indication of the time.

The case of the watch is made of high-quality wood from Black Forest trees. Each carving is unique and often depicts scenes from nature, such as fir trees, animals or flowers. A beautiful addition to any home, our carved cuckoo clocks are a must-have collectible for lovers of traditional craftsmanship.
The pendulum clocks are made in Germany in the Black Forest and are a real quality product that will give you a lifetime of pleasure. Order your cuckoo clock from us safely and 100% Made in Germany in the Black Forest.